Trainers
10

Amar Dev Kaur (Marina Ktisti)
Alimos, Greece
Level One Lead · Level Two Professional
Kundalini Yoga Lead Trainer, actress and communication specialist. The first student of Yogi Bhajan in Greece (since 1996), devoted to the constant studying, practicing and teaching Kundalini Yoga. Brought Kundalini Yoga in Greece (1999) and co-founded "Guru Ram Das Ashram", the first Kundalini Yoga Center in Greece, blessed by Yogi Bhajan. -Lead Teacher's Trainer Level 1 & 2 -Specialized in Pregnancy Yoga and Children's Yoga. -"Spiritual Fitness" private consultation method developer. -Healer of the "Healing Hands" technique -Developer of the "Spiritual Theatre" project (assignment given to her personally by Yogi Bhajan). Honored by the International Kundalini Yoga Teacher Association (IKYTA) with the "IKYTA TEACHER RECOGNITION" for her contribution to the diffusion of Kundalini Yoga in Greece and the conservation of the integrity of the teachings. Teaches in Greece and internationally, in English, Italian, Greek.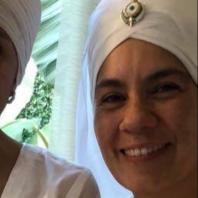 Guru Darshan Kaur Khalsa (Rosa del Carmen Suasnavar)
Tlaxcalancingo, Pue., Mexico
Level One Professional · Level Two Professional
I teach in Puebla, Mexico. I've lived here six years and I teach Kundalini Yoga classes for children, seniors and people in general. Currently the Guru Ram Das center of Puebla, has a page on Facebook and I'm the director. On this site we publish recipes, tips, and information. News of Guru Ram Das center and its teachers on www.kundaliniyogapuebla.com In Puebla, the community seeks to support each other. We do Langar 3 times a year, distributing food to those who have no resources.And do SGGS continuous readings 3 times a year. The center offers level 1 and level 2, with the support of my teacher Ravi Kaur Khalsa. This year I am supporting the "21 Stages of Meditation" in Mexico. I coordinate and support Level 1 in Oaxaca for three teacher trainers: Pritam Pal, Tarn Taran Kaur and Ravi Kaur. I like my job and I like to serve.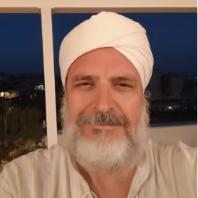 Karta Singh (Massimo Giustiniani)
Rome, Lazio, Italy
Level One Lead · Level Two Professional
Kundalini yoga teacher since 1990, cofounder of Associazione Shakti, KRI teacher and trainer. Teacher of "yoga in business environments" and "Yoga for stress program", Karta Singh is a teacher of the Associazione Shakti and manages the community site of Associazione Shakti yogaonline.it and the website kundaliniyoga.it. He is a long time practitioner of Sat Nam Rasayan, that he started to practice when Guru Dev Singh came to Italy almost twenty years ago. Karta Singh enjoys living a life of yoga and spirituality with a solid grounding in everyday life: contract professor of informatics at the University of Siena since 1999, he is a consultant in information security and a manager: director of NBS, a consultancy firm based in Italy. Former President and CEO of US-Boards, an electronic manufacturer based in Scottsdale, AZ. He frequently teaches Humanology and Kundalini yoga with his wife, Guru Jiwan Kaur.
Ongoing and Upcoming Programs
Level One Teacher Training
 — 
Metropolitan City of Naples, Italy, Oct 20, 2018 to Jan 19, 2020

Mukta Kaur Khalsa
Española, NM, USA
Level One Professional · Level Two Professional
Director of SuperHealth: Yogic Science to Break Habits & Addictive Behavior Trained personally with Yogi Bhajan. Conducts trainings internationally and teaches an annual Specialty Professional Training, an 8 + day Immmersion in Espanola (February 16-23, 2013) including conditions for: Drugs & Alcohol Smoking Food and Relationship Issue Stress, Anxiety, Depression Computer, work, IT gadgets and more Studied personally with Yogi Bhajan for 30 years in SuperHealth technology. Directed Specialized Yogic based Hospital for substance abuse rated in to 10% of all programs in US by JCAHO (arm of AMA) Special Representative to the UN Office of Drug Control and Crime, Vienna. Author: Meditations for Addictive Behavior" www.super-health.net superhealth12@gmail.com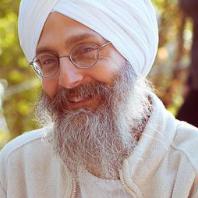 Sangeet Singh Gill
Butzbach, HE, Germany
Level One Professional · Level Two Professional
Kundalini Yoga since 1995, Professional Teacher Trainer since 2008, currently in several Teacher-Trainings in Germany. My Mentor is Shiv Charan Singh. Besides Kundalini Yoga I teach also Sat Nam Rasayan. Main Topic is the Self Sensory System an the third ear.

Sat Guru Kaur Khalsa
Barcelona, CT, Spain
Level One Lead · Level Two Professional
Sat Nam, my name is Sat Guru Kaur Khalsa, I run a training programme level one in Guru Guru my school, Barcelona. I feel it's important for students to not only learn the teachings but to apply them directly in everyday life so they receive the training as a residential experience in amazing farmhouses in the countryside in Spain, where we also dedicate a part of the training to Ayurvedic and Macrobiotic cooking. I have lived in Spain for 7 years teaching and training. I specialize in Women's Retreats and workshops as I was impacted passionately by Yogiji's call for all women to wake up and SIMPLY BE A WOMAN! I speak Spanish, French and English. I met the teachings 15 years ago with my amazing first teacher Sat Nam Kaur in Mexico, and got inspired to meet the Master two years later... the rest is history.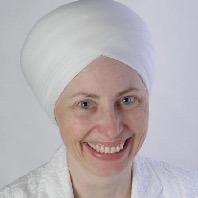 Shabad Kaur Khalsa
Chicago, IL, USA
Level One Lead · Level Two Professional · 21 Stages of Meditation Lead
Shabad Kaur Khalsa, LCPC, LMFT, E-RYT 500, C-IAYT, Cofounder of Spirit Rising Yoga, shares over 30 years of yogic lifestyle. Her deeply insightful transmission of yogic wisdom for women and Humanology (yogic science of relationships) is due to her having personally served Yogi Bhajan and transcribing and illustrating many of his teachings. As a psychotherapist, she specializes in offering alternative methods of treatment for anxiety and depression through integrating the teachings of Kundalini yoga and meditation. Shabad Kaur also loves teaching Kundalini prenatal yoga and assisting women in crossing the threshold into motherhood.

Siri Bahadur S Khalsa
Austin, TX, USA
Level One Professional · Level Two Professional
I live and teach in Austin, Texas: Yoga Yoga (yogayoga.com) contact mehtab@yogayoga.com; Sukha Yoga, Austin, TX; Divine Yoga in New Orleans, LA (gary@yoganola.com); the Spirit Rising Studio in Chicago, IL; various studios in Houston TX where we can arrange weekend workshops. I teach in English only and specialize in Meditation, Pranayama, Gong, How To Play the Gong; Mantra; and Sound Therapy.

Siri Sevak Kaur Khalsa
Millis, MA, USA
Level One Professional · Level Two Professional
Siri Sevak Kaur is a compassionate and gifted teacher of teachers in Kundalini Yoga. Her own immersion in mantra, music and Sikh Dharma bring additional depth and beauty to the training. She lives and teaches at Guru Ram Das Ashram in Millis, Massachusetts, and teaches in Level 1 trainings and Level 2 trainings in Massachusetts, New York and Connecticut. She teaches Gurmukhi and Japji teleclasses to Kundalini Yoga students around the world. For more information go to SiriSevak.com.