Trainers
3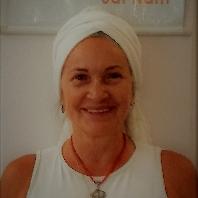 Guru Atma Kaur Khalsa (Aurora Alexandrina Castellotti)
São Paulo, Brazil
Level One Professional
I am a psychologist and I work with teenagers/adults, my specialties. My son and I have a new center of Kundalini Yoga, Tai Chi Chuan,Pilates and Aikido - KR DOJO ACADEMIA. I speak Italian, Portuguese, a little Spanish and English. Now I have four pretty granddaughters, Valentina,11 years old, Cora 9 years old, Kira 4 years old and Kimi 2 years old. I'm a professional Trainer and having completed level 2 I'm waiting for the right moment to start level 3. I participated in several training courses in Sao Paulo and Ribeirao Preto, with Gian Kaur Khalsa our leader. I participate in White Tantric Yoga always. I never stopped teaching kundalini yoga, always following faithfully and respectfully the teachings of Yogi Bhajan.

Guru Suroop Kaur (Laís Maria Virdis Pardis Moreira)
Ribeirão Preto, SP, Brazil
Level One Professional

Simran Sangeet Kaur (Paula de Almeida Rodrigues)
São Paulo, Brazil
Level One Professional
I began Kundalini Yoga in 2005 and since then Yogi Bhajan's teachings have been transforming my understanding of myself, bringing meaning and purpose to my life. I feel honored to participate in the Level One Teacher Training program as an Associate trainer. It has been a mission and a joy over the years. I dedicate myself to deepening the teachings through study, practice and self-reflection. I am an instructor in Kundalini yoga group classes and as a teacher at the University I develop mental health projects for medical students.