Trainers
2

Gurujagat Kaur Ronen
Gap, Provence-Alpes-Côte d'Azur, France
Level One Lead
SAT NAM, Born in Israel, I came across the teachings of Kundalini Yoga and Yogi Bhajan in 1975, in the Mother-Ashram of KY in Amsterdam. Since, life brought me to many places of learning, and teaching many Yoga sessions. Along with teaching regular yoga classes, intensive workshops, Level 1 Teacher Training (Professional), I have founded in 2007 the "Kundalini Yoga-Doula School" (KYDS) Teacher Training to accompany and Serve mothers through the sacred journey of giving birth. Based in the southern Alps of France, I travel to teach near and far, in English and French.
Ongoing and Upcoming Programs
Level One Teacher Training
 — 
1 Puygiraud, 86260 Saint-Pierre-de-Maillé, France, Oct 28, 2018 to Aug 29, 2019
Level One Teacher Training
 — 
Barcelona, Spain, Apr 6, 2019 to Mar 22, 2020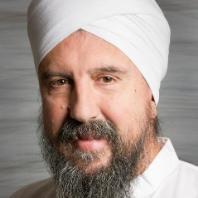 Siri Kar Singh
Marseille, Provence-Alpes-Côte d'Azur, France
Level One Professional
In 1999 a mystical experience made me realize the reality, and brought a radical change in my life. I started to study Sanatana Dharma with meditation, bhajan and seva, with many journeys to India. In 2006 I discovered Kundalini Yoga and started a teacher training. In the same year. I began to teach. I am Karam Kriya consultant/teacher since 2009, KY trainer level 1 since 2010 (actually professional). In September 2018 I have opened with my beloved, a KY center in Marseille - Santh Janaa Center. Here we teach weekly class, Gong relaxation, Teacher Training Level 1, and many others activities linked to Yogi Bhajan's teachings.