Trainers
4

Anand Kaur Seitz
Syke, NDS, Germany
Level One Lead · Level Two Lead · 21 Stages of Meditation Lead
Kundalini Yoga, Pregnancy Yoga, Yoga for Menopause, Hormonal Therapy Yoga Training, Workshops, Numerology, Teacher Trainings, Personal Trainings and Consultations, Supervision and Specialisations for Teacher Trainers, www.AnandNivas.de

Atma Jot Kaur
Friedland, NDS, Germany
Level One Professional · Level Two Professional
Atma Jot Kaur is from Goettingen, Germany, and has been a Kundalini Yoga teacher since 1986.Her life is deeply rooted in the teaching of Yogi Bhajan, especially those for women, and in the therapeutic use of Kundalini Yoga. As a KRI certified Professional teacher trainer, faculty and European representative of the Guru Ram Das Center for Medicine & Humanology, Espanola, NM, she teaches internationally. She is a internationally certified Yoga Therapist (C-IAYT). Atma Jot Kaur holds a BA in Indology and Religious Studies and practices as a naturopath and Gestalttherapist.

Atma Singh
Göttingen, NDS, Germany
Level One Professional
My spiritual name given to me as a lifelong Mantra, meaning "soul of god"; I have discovered that it is my main task to remember that I am a spiritual soul having a human experience. It is the essence of all that I live and all that I teach. I am living with my family in Göttingen in Germany where I am running a Yoga centre. Besides the ongoing classes that I teach my specialties are courses in Stress management, Spiritual Counseling and Workshops based on Kundalini Yoga and applied numerology. I teach internationally in various Kundalini Yoga Teacher Trainings as well as Karam Kriya trainings, mainly in Germany, but also in other European Countries and South America.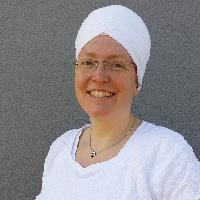 Taran Kaur (Melanie Linow)
Scheeßel, NDS, Germany
Level One Associate
German, English, French, Spanish