Trainers
2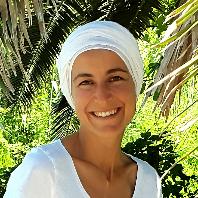 Giulia Borghi
Emilia-Romagna, Italy
Level One Professional
Ravijit is a student, she teaches Gurmukhi, Kundalini Yoga and Karam Kriya and loves poetry. She studies with Shiv Charan Singh since 2008 and it is above all thanks to him that she rediscovered the path and the words of Sikh Dharma. Deeply transformed by Guru Nanak's Japji, she translated the original text into italian. She studied cultural anthropology in Bologna, where she obtained a first degree with a thesis in classical world religions and a second degree with a research on the contemporary transmission of oriental philosophies. In 2016, with her husband Luca she founded Nabhi – Centro della Terra, a beautiful retreat Centre in the italian Appennines, a place dedicated to the practice, the study and the promotion of disciplines of awareness and art, with the aim of offering a space of conscious life style and dialogue between nature, human and spirit. Currently an Associate in the Academy.
English, Spanish, Italian

Sat Hari Kaur (Roberta Aramini)
Bologna, Emilia-Romagna, Italy
Level One Lead
Sat Hari Kaur has been teaching Kundalini Yoga in Bologna- Italy- since 2001 and is a Professional Level 1 Teacher Trainer. She also specializes in yoga for Children (certified by Gurudass K.). She has been following Shiv Charan Singh's teachings since 1994 and is a Karam Kryia consultant.
Ongoing and Upcoming Programs
Level One Teacher Training
 — 
Via Giuseppe Rivani, 99, 40138 Bologna BO, Italy, Jan 20, 2023 to Dec 17, 2023
Level One Teacher Training
 — 
30031 Dolo, Metropolitan City of Venice, Italy, Apr 1, 2023 to Mar 9, 2024