Trainers
5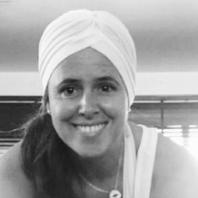 Ana Madalena da Cunha Rego de Carvalho - Sukh Gian Kaur
Lisboa, Portugal
Level One Associate
English, Spanish, Portuguese

Ardaas Singh
Porto, Portugal
Level One Lead · Level Two Lead · 21 Stages of Meditation Lead
Ardaas Singh began his career as a musician, university teacher and researcher. He began his yogic studies while he was completing his Phd in Engineering. He began his path as a Mantra Yogi under the training of Muz Murray in U.K., France and India. He then trained in Sat Nam Rasayan Healing and as a Kundalini Yoga Instructor in New Mexico, US. He has also travelled all throughout Europe receiving the teachings of Karam Kriya from Shiv Charan Singh. At present, Ardaas Singh is dedicated to the transmission of these teachings as an international trainer of Kundalini Yoga Teachers and Karam Kriya Consultants.
Catalan, English, Spanish, Portuguese
Ongoing and Upcoming Programs
Level One Teacher Training
 — 
Seville, Spain, Jan 14, 2023 to Dec 17, 2023
Level One Teacher Training
 — 
Majorca, Balearic Islands, Spain, Jan 21, 2023 to Sep 10, 2023
Level Two Lifecycles and Lifestyles
 — 
Seville, Spain, Jun 13, 2023 to Sep 16, 2023
Gurujot Kaur (Maria Luna de la Cruz)
São João das Lampas, Lisboa, Portugal
Level One Professional
Nacida en Salta, Argentina, Gurujot Kaur es Antropóloga, Profesora de Kundalini Yoga y Doula. Se especializó en las enseñanzas de Kundalini Yoga para la mujer, así cómo pre y postnatal, y actualmente forma parte del equipo de profesoras de "The Mother's Journey". Ha sido Directora Ejecutiva de la Fundación "Mujer de Luz" en Ecuador, y vivió varios años en Quito y formó parte activa del equipo del Centro de Yoga "Siri Prem". Es entrenadora asociada (KRI) enseñando en KY Teacher Trainings en Ecuador, Chile, Perú, Argentina y Portugal. Gurujot da clases regulares de KY online, en la membresía de la escuela RAMA (México), forma parte de "Alma Mater" y es co-fundadora de "El Milagro de la Luna", acompañando a mujeres embarazadas y en postparto a través de yoga y meditación. Desde el 2020 vive en Portugal, junto al Ashram Guru Ram Dass, donde comparte la vida en comunidad, estudia Karam Kriya con su maestro Shiv Charan Singh, y trabaja en la escuela de Kundalini Yoga y Karam Kriya Quinta do Rajo.

Satya Kaur
São João das Lampas, Lisboa, Portugal
Level One Lead · Level Two Lead · 21 Stages of Meditation Lead
Ongoing and Upcoming Programs
Level One Teacher Training
 — 
7580 Santa Susana, Portugal, Apr 22, 2023 to Mar 5, 2024

Shiv Charan Singh
São João das Lampas, Lisboa, Portugal
Level One Lead · Level Two Lead · 21 Stages of Meditation Lead
- Kundalini Yoga teacher since 1982 - L1 and L2 Kundalini Yoga teacher trainer since 2000 - Lead Trainer L1 and L2 - Spiritual counselor and founder of Karam Kriya training since 1996 - Director of Karam Kriya School and Quinta do Rajo (retreat center in Portugal) - Author of 'Let the Numbers Guide You' and other books www.karamkriya.com, www.quinta-do-rajo.pt
Ongoing and Upcoming Programs
Level One Teacher Training
 — 
92500 Rantsila, Finland, Oct 2, 2022 to Sep 27, 2023
Level One Teacher Training
 — 
Paris, France, Oct 8, 2022 to Jul 4, 2023
Level One Teacher Training
 — 
London, UK, Oct 22, 2022 to Jul 18, 2023
Level Two Conscious Communication
 — 
Germany, Jan 19, 2023 to Apr 24, 2023
Level Two Authentic Relationships
 — 
Dubai - United Arab Emirates, Jan 26, 2023 to May 1, 2023
Level Two Lifecycles and Lifestyles
 — 
London, UK, Mar 30, 2023 to Jul 3, 2023
Level Two Authentic Relationships
 — 
Australia, Apr 20, 2023 to Jul 24, 2023
Level Two Lifecycles and Lifestyles
 — 
7580 Santa Susana, Portugal, Oct 5, 2023 to Jan 8, 2024
Level Two Conscious Communication
 — 
Oslo, Norway, Oct 26, 2023 to Jan 29, 2024
Level Two Conscious Communication
 — 
South America, Nov 23, 2023 to Feb 26, 2024