Trainers
2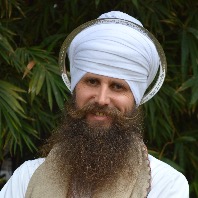 Amrit Singh Reinsch
Amritsar, PB, India
Level One Professional
Professional Teacher Trainer at Miri Piri Academy Amritsar, India.

Jugat Guru S Khalsa
Punjab, India
Level One Lead · Level Two Lead · 21 Stages of Meditation Lead
Jugat Guru Singh Khalsa is the Executive Principal of Miri Piri Academy in Amritsar, India. The school was founded by Yogi Bhajan and is the only high school program in the world to train 11th and 12th grade students as Kundalini Yoga Teachers. He teaches a Level 1 training course to the 11th grade, and several Level 2 modules for 12th grade students. You may find out more about Miri Piri Academy and our Kundalini Yoga Teacher Training Program at www.miripiriacademy.org. You can also email the school for more information at info@miripiriacademy.org.
Ongoing and Upcoming Programs
Level One Teacher Training
 — 
Av Atlacomulco 193, Tlalnemex, 54070 Tlalnepantla de Baz, Méx., Mexico, Jun 3, 2019 to Nov 14, 2019