Trainers
8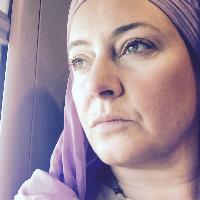 Beant Kaur Khalsa
Firenze, Toscana, Italy
Level One Professional · 21 Stages of Meditation Professional
i teach Kundalini Yoga, Sat Nam Rasayan, Conscious Pregnancy, in Italian as Mother tongue and English. I am Sat Guru Charan foot reflexologist. I live and teach in Florence Italy
English, Spanish, French, Italian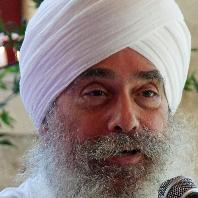 Dr. ShamRang Singh Khalsa
Millis, MA, USA
Level One Professional · 21 Stages of Meditation Professional
Dr. ShamRang Singh Khalsa, M.D., provides models for individual and group healing through a revolutionary merging of Ayurveda/Yoga and allopathic medicine, eastern and western science. Dr. ShamRang's process utilizes meditation with a strong focus on helping people open to their own self-healing. Over forty years ago, his deep interest in yoga, energy work, the healing power of foods, and the human auric field brought him serendipitously to find the path of Kundalini Yoga and meditation as a student of Yogi Bhajan. He has trained in Ayurveda and Japanese acupuncture. With an M.I.T. undergraduate degree in nutritional science, then medical school, residency in Internal Medicine, and more than 30-year practice of Emergency Medicine, Dr. ShamRang has been able to integrate western medical practice and family life with an impeccable 2-4 hour daily spiritual practice of over 3 decades. He currently is a Professional Trainer in the Aquarian Teacher Academy and teaches regularly at the ashram in Millis, Massachusetts. He has also taught at the Omega Institute, Kripalu, Sat Nam Fest, and Solstice gatherings, with upcoming engagements at Sivananda Ashram and Yogaville. Dr. ShamRang is available for private consultations, workshops and speaking engagements.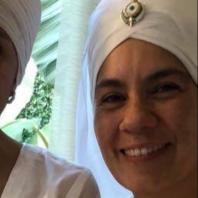 Guru Darshan Kaur Khalsa (Rosa del Carmen Suasnavar)
Tlaxcalancingo, Pue., Mexico
Level One Professional · Level Two Professional · 21 Stages of Meditation Professional
I teach in Puebla, Mexico. I've lived here six years and I teach Kundalini Yoga classes for children, seniors and people in general. Currently the Guru Ram Das center of Puebla, has a page on Facebook and I'm the director. On this site we publish recipes, tips, and information. News of Guru Ram Das center and its teachers on www.kundaliniyogapuebla.com In Puebla, the community seeks to support each other. We do Langar 3 times a year, distributing food to those who have no resources.And do SGGS continuous readings 3 times a year. The center offers level 1 and level 2, with the support of my teacher Ravi Kaur Khalsa. This year I am supporting the "21 Stages of Meditation" in Mexico. I coordinate and support Level 1 in Oaxaca for three teacher trainers: Pritam Pal, Tarn Taran Kaur and Ravi Kaur. I like my job and I like to serve.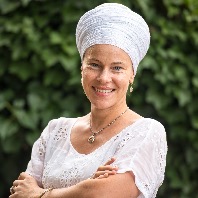 Japa K Khalsa (Dr Japa Kaur Khalsa)
Española, NM, USA
Level One Professional · 21 Stages of Meditation Professional
About Dr. Japa Dr. Japa Kaur Khalsa is a 20-year practitioner of Medicine and healing work. She is trained in multiple methodologies, and credentialed with degrees as a Doctor of Oriental Medicine, Certified Yoga Therapist, and Level Two Sat Nam Rasayan healer. Dr. Japa travels and teaches internationally as a Professional Teacher Trainer in the Aquarian Academy, as co-author of Enlightened Bodies, she brings an awareness of the human body's potential to self heal in her work. Drjapa.com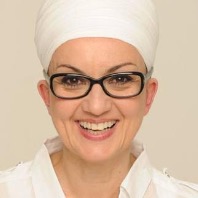 Jiwan Shakti Kaur
Roma, Lazio, Italy
Level One Professional · Level Two Professional · 21 Stages of Meditation Professional
Sat Nam I am an Italian teacher of Kundalini Yoga as it was taught by Yogi Bhajan. I practice yoga, follow a naturally healthy life style from 1989. I have taken all my professional experiences in communication and team work in the field of yoga whilst bringing Kundalini Yoga into the show business world where I worked for 25 years. Also as certified operator of Sat Guru Charan (foot reflexology massage under meditation) and practitioner of Karam Kriya (the study of life through numbers and the study of numbers through life). As award-winning TV writer, I also teach script writing techniques, acting and use of body and emotions according to "The Method", by Lee Strasberg (Actors Studio). I am currently living in Rome (Italy) and I teach regularly in Europe and North Africa. I speak and teach in Italian, Spanish and English.
Italian, Spanish, English
Jot Kaur Berglind (Ulrika Berglind)
Stockholms län, Sweden
Level One Lead · 21 Stages of Meditation Professional
Ongoing and Upcoming Programs
Level One Teacher Training
 — 
Timmermansgatan, Stockholm, Sweden, Oct 19, 2019 to Sep 27, 2020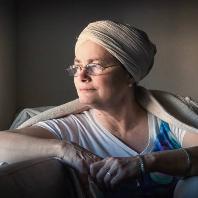 Ranbir Agiapal Kaur (Gwen Ingram)
Oklahoma City, OK, USA
Level One Professional · Level Two Professional · 21 Stages of Meditation Professional
Currently I am teaching a regular weekly Kundalini yoga class at the Yoga Lotus in Drumright, a weekly class at Radiant Living 6051 Brookline in Oklahoma City, and a weekly class at the Ashtanga Yoga Studio 120 Tonhawa in Norman, Ok. The workshops I have done the past few years include Art and Yoga, Understanding Habits with Superhealth, and PTSD overview workshop with Karta Purkh and Sat Inder. Last year I helped with their, (KP & SI) Level one training in Kansas City traveling to their ashram monthly. This year I will help again as an Professional trainer and I have trained in an anatomy course to be able to teach that part of the level one. My art business has been transformed by all the yoga training in a beautiful way through paintings, & note cards. Our local environmental activism has been supported and strengthened by our yoga classes. Wha-he Guru 918-606-1556-------www.yogalotusok.com

Simran Kaur (Simran Kaur Khalsa)
Los Angeles, CA, USA
Level One Professional · 21 Stages of Meditation Professional
Born into a Yogic family, her parents Co-Directors of Kundalini Yoga East in New York City, started doing Yoga with her from day-one! She studied in India for 9 years. She has been teaching all aspects of KY Teacher Training for the last 15 years. She has taught in Teacher Trainings, in Mexico City, New York City, Los Angeles, Pasadena, Upland, Espanola, Crestone, Ft. Lauderdale, Herndon, Tallahassee & Eugene. She has also had the honor of teaching at Winter and Summer Solstice as well as at the European Yoga Festival. She has ongoing classes in Los Angeles. She has developed a Teacher Training Program for Divine Alignment & The Heart Rules to supplement any Teacher Training program and make sure that the teaching of how to do Kundalini Yoga correctly is carried forward. She has helped her husband of 27 years, GuruPrem Singh, write 3 books 'Divine Alignment', 'The Heart Rules' & a New book from KRI, 'Everyday Devotion' She has 4 Music Albums, 'Love Life', 'Heal Me' and 'Suite: Kirtan Soheila'